Today, Canadian chocolatier Purdys is launching a vegan version of its most popular chocolate, Sweet Georgia Browns. The beloved chocolate treat, reminiscent of turtles, combines toasted pecans, vegan caramel made from apple cider and coconut milk, and a generous dollop of vegan milk chocolate made from rice milk powder instead of dairy products. The new item is available in a box of eight or snack-sized packs of two on the Purdys website or at its more than 75 locations nationwide.
"Sweet Georgia Browns are one of Purdys most famous treats, so we knew we had to make a vegan version of it," Purdys Master Chocolatier Rachel McKinley said in a statement. "The challenge of creating vegan Sweet Georgia Browns was to make the perfect vegan caramel that would live up to what our customers expect from us. After extensive testing, I have found that apple cider and coconut milk results in an incredibly buttery tasting vegan caramel that we know our customers will love.
The launch of vegan Sweet Georgia Browns comes as the 115-year-old chocolate factory continues to develop more vegan options of its famous treats to meet the changing preferences of its customers. Purdys has even created a designated vegan area in its factory kitchen, including a vegan-only molding and packaging line.
"We wanted everyone to be able to enjoy the same best-selling Purdys that Canadians have known and loved for generations," Kriston Dean, vice president of sales and marketing for Purdys, said in a statement. "That's why we're excited to launch our Vegan Sweet Georgia Browns. And with our exciting new vegan caramel recipe, we can't wait to make more vegan options of our famous treats.
Last fall, Purdys launched its first line of vegan chocolates, which included vegan milk and dark chocolate bars in three varieties: Vegan Mylk Chocolate, Vegan Mylk Trail Mix and Vegan Dark Trail Mix. The vegan bars are sold individually or as part of a six-piece matching bag.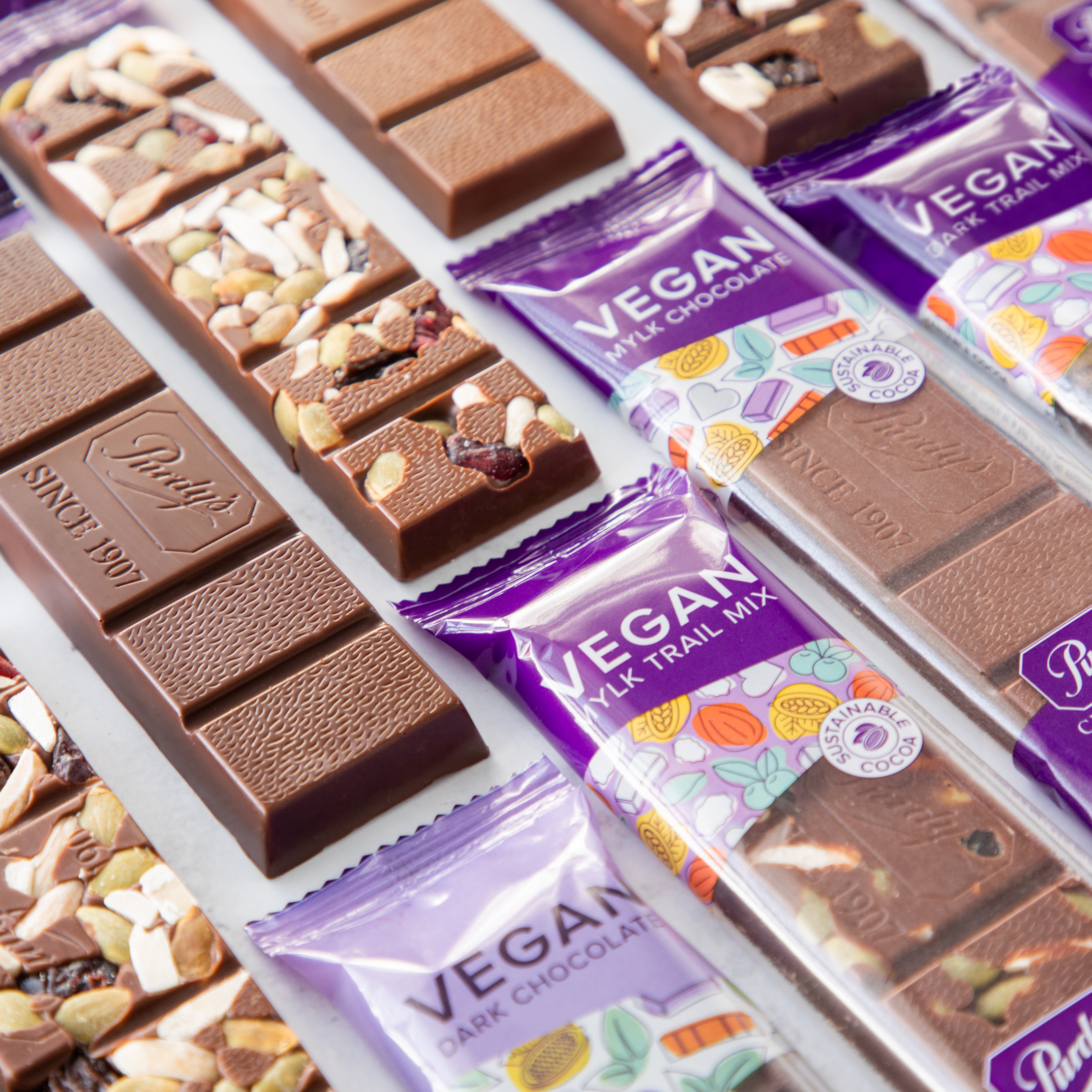 Cadbury, Hershey's and Lindt are all launching vegan chocolate
Purdys joins a number of leading chocolate brands around the world who have introduced vegan versions of iconic chocolate snacks to meet the growing demand for dairy-free options. Confectionery company Cadbury recently launched its first line of vegan chocolate bars, called Cadbury Plant Bars, in the UK.
The 197-year-old chocolate brand took two years to develop vegan versions of its classic milk chocolate bar. The new vegan bars, which come in Smooth Chocolate and Salted Caramel varieties, are made with marzipan instead of cow's milk.
Cadbury's marketing campaign for the new products included apology letters and murals to Britons for taking so long to create dairy-free bars. "Sorry for taking so long," the letter read. "Sorry, it looks like we weren't listening to your calls… And sorry for all the other chocolates you had to eat while you waited." We just wanted it to be perfect.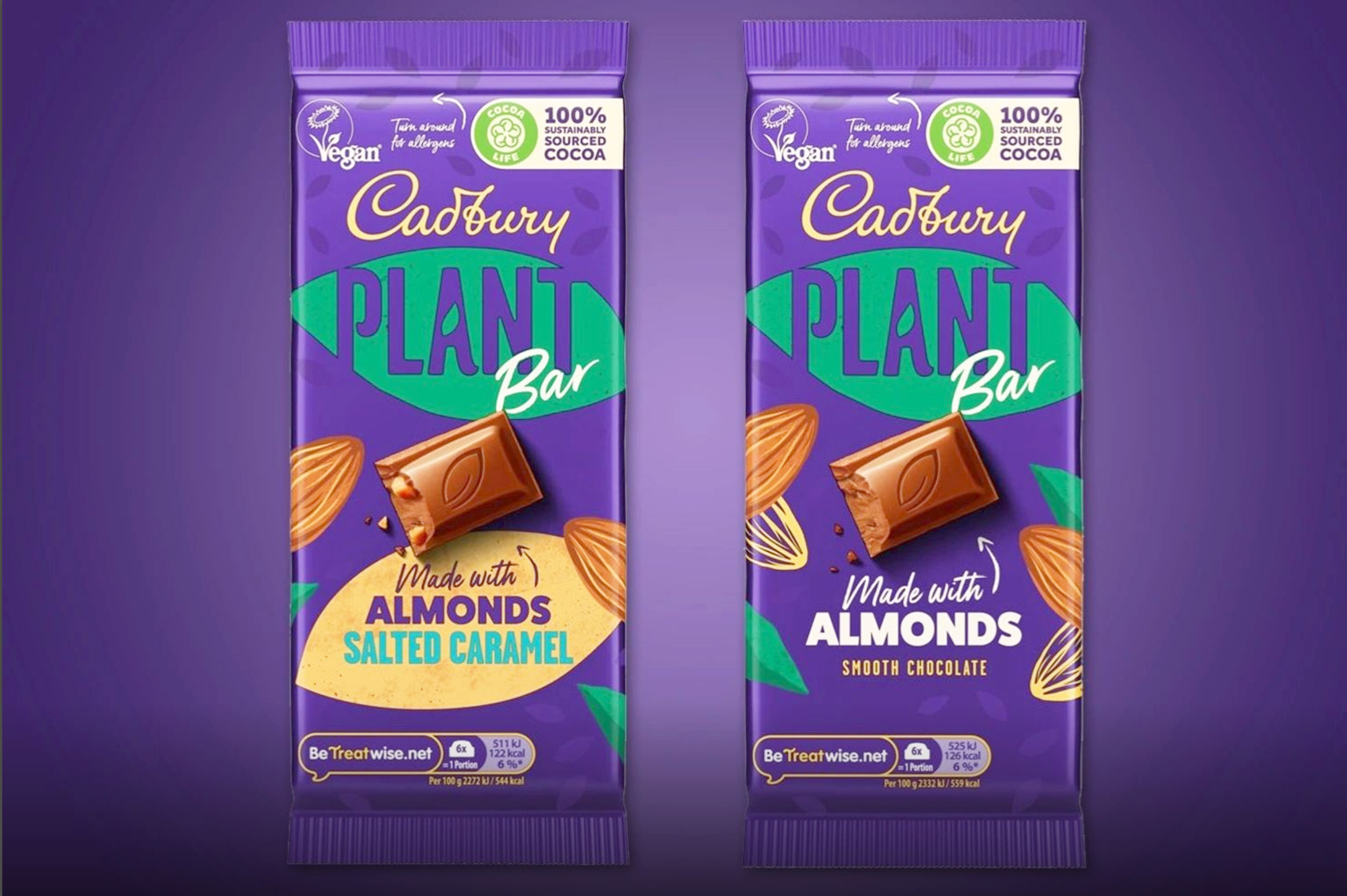 Last year, a vegan version of the iconic KitKat bar also started making its way onto store shelves in the UK. Made from a combination of vegan chocolate and vegan wafer fingers, the KitKat V was created by Nestlé's research and development team in York, UK.
This month, Swiss chocolatier Lindt & Sprungli launched Lindt Classic Recipe vegan milk chocolate bars made with oat milk and marzipan. The bars are available in two varieties (smooth and nutty) at UK supermarket chain Sainsbury's and other popular food retailers, as well as on Amazon, Lindt chocolate shops and online.
In the United States, the Hershey Company launched its first vegan chocolate bars made with oat milk at limited retailers, including select Target locations. Hershey's Oat Made bars are available in flavors such as Classic Dark and Extra Creamy Almond & Sea Salt, with each bar made from oat milk clearly labeled vegan. The launch of the bar is part of a real-time marketing test conducted by Hershey's. The new vegan chocolate bars are expected to be available until June.
To learn more about vegan chocolate, read:
Scientists find compounds in dark chocolate could block COVID-19
Billie Eilish Launches 'Happier Than Ever' Vegan Milk Chocolate Bar
Hershey Commits to Adding Plant-Based Chocolate Products
JUST LAUNCHED! Vote for your favorite vegan products in the 2022 VegNews Veggie Awards.
Vote now
JUST LAUNCHED! Vote for your favorite vegan products in the 2022 VegNews Veggie Awards.
Vote now